The shift to battery-electric power from gasoline is still in its infancy, but make no mistake: A big wave is coming. A new entry is the 2023 Toyota bZ4X hatchback.
The bZ4X — the name doesn't exactly roll off the tongue — is a natural extension of Toyota's current assortment of enviro-friendly hybrids plus a hydrogen fuel-cell model (the Mirai). The company should be considered the industry leader in electrification, based on the myriad of models it (and Lexus) offers, so it's curious that Toyota appears to be late to the game with its first battery-electric. This is the company that led the market with the Prius hybrid more than two decades ago, after all.
READ MORE: 2023 will be the year of the EV
By 2025, however, the automaker plans a total of 70 electric and electrified vehicles for global consumption, including several slated for Toyota's bZ (beyond Zero) grouping.
Compared with the recently launched Kia EV6 hatchback, the five-passenger bZ4X is about the same length and about five centimetres shorter between the front and rear wheels. It's dimensionally identical to the 2023 Subaru Solterra for good reason since they share platforms and mechanicals and are built at the same factory in Japan.
The bZ4X is notable from a styling perspective for its blank-slate nose that Toyota says is designed to cheat the wind. A functional lower air intake helps cool the front brakes. The hood, fender and door bodywork are attractively sculpted, as is the rear deck with its full-width taillights. The dark cladding attached to the fender openings, rocker panels and bumpers seem somewhat superfluous, considering the bZ4X is likely not destined for rocks and tall-grass gallivanting. Toyota states that the bZ4X is capable of "light off-roading," whatever that means.
Opening the wide liftgate reveals a low load floor with plenty of space for stowing larger objects, whether the rear seat in use or folded flat.
READ MORE: 2023 Genesis Electrified G80: Could this electric sedan be the benchmark to beat?
The body panels are attached to the new e-TNGA platform that will underpin future Toyota and Lexus EVs.
Interior styling is referred to by Toyota as "open concept," with a large touch-screen dominating an otherwise clutter-free dashboard. A glove box is noticeably absent but there are two good-sized storage bins — one with a sliding cover — located between the front seats.
Toyota's Drive Connect will be offered to bZ4X buyers. The subscription service comes with a real-time navigation system that, among its benefits, includes driving range, traffic and charging station info plus parking-space availability.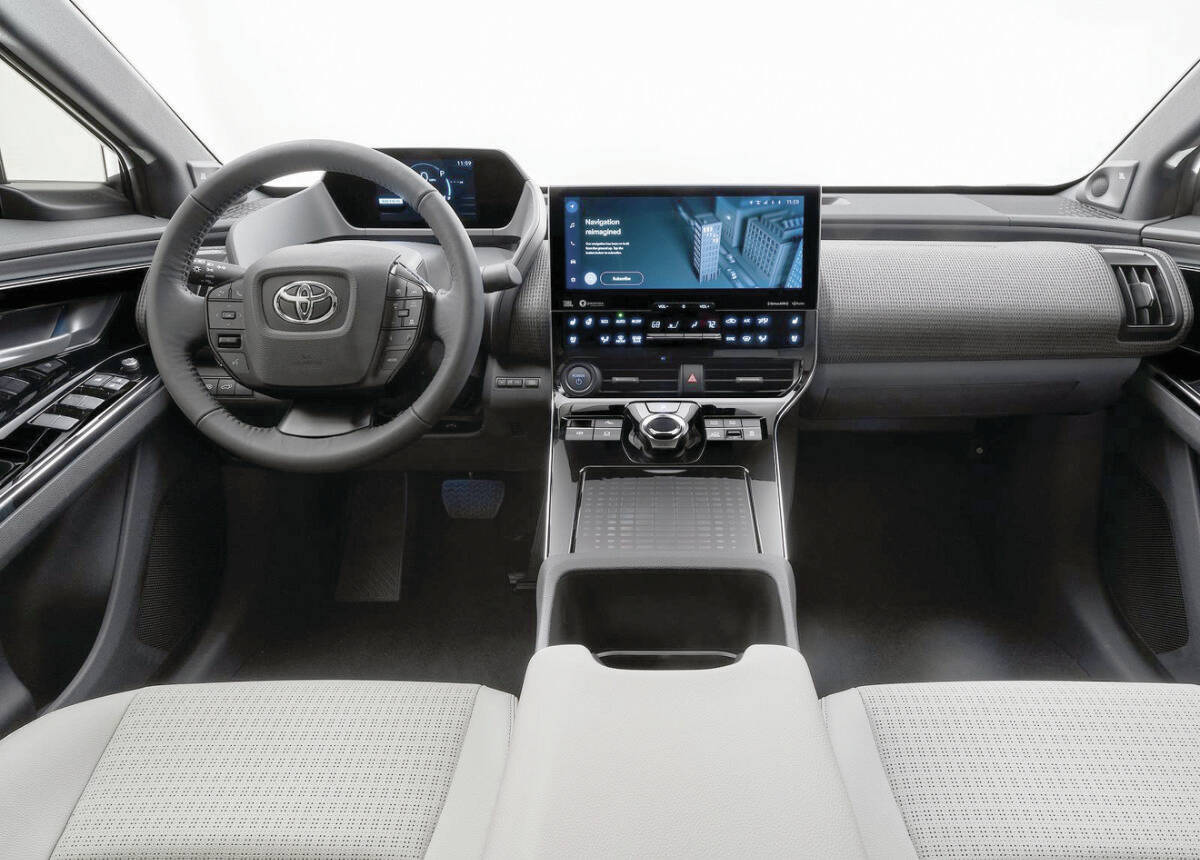 Pricing for the base bZ4X starts at $47,000, including destination fees. It comes with a 201-horsepower (150-kilowatt) motor that drives the front wheels. All-wheel-drive (AWD) models get two smaller 80-kilowatt-hour motors that produce a net 214 horsepower. A single-speed controller is standard.
Both drive systems are supported by a 71.4-kilowatt-hour lithium-ion battery pack positioned in the floor. Toyota is targeting a 90-per-cent battery-life retention after 10 years or 240,000 kilometres. According to the automaker, the front-wheel-drive (FWD) model hits 60 mph (96 km/h) from rest in 8.2 seconds. That drops to 7.5 seconds for the AWD variant.
For the FWD model, maximum range is estimated at 400 kilometres. Toyota hasn't provided AWD figures, but about 350 kilometres is predicted.
To aid efficiency, the bZ4X uses a heat-pump system for warming and cooling the passenger compartment. Included are heated front seats and steering wheel plus a unique foot- and-leg heater.
Buyers can opt for solar panels embedded in the panoramic roof. Toyota says they can add an estimated 1,600 non-charging kilometres per year.
Toyota's Safety Sense driver-assist technologies is also standard. Along with the usual collision-avoidance features, the system includes low-light cyclist detection, daytime cyclist and guardrail detection.
As a first effort, the Toyota bZ4X will be a strong contender in the expanding EV segment. The question is, where will the company that's known for electrification go from here?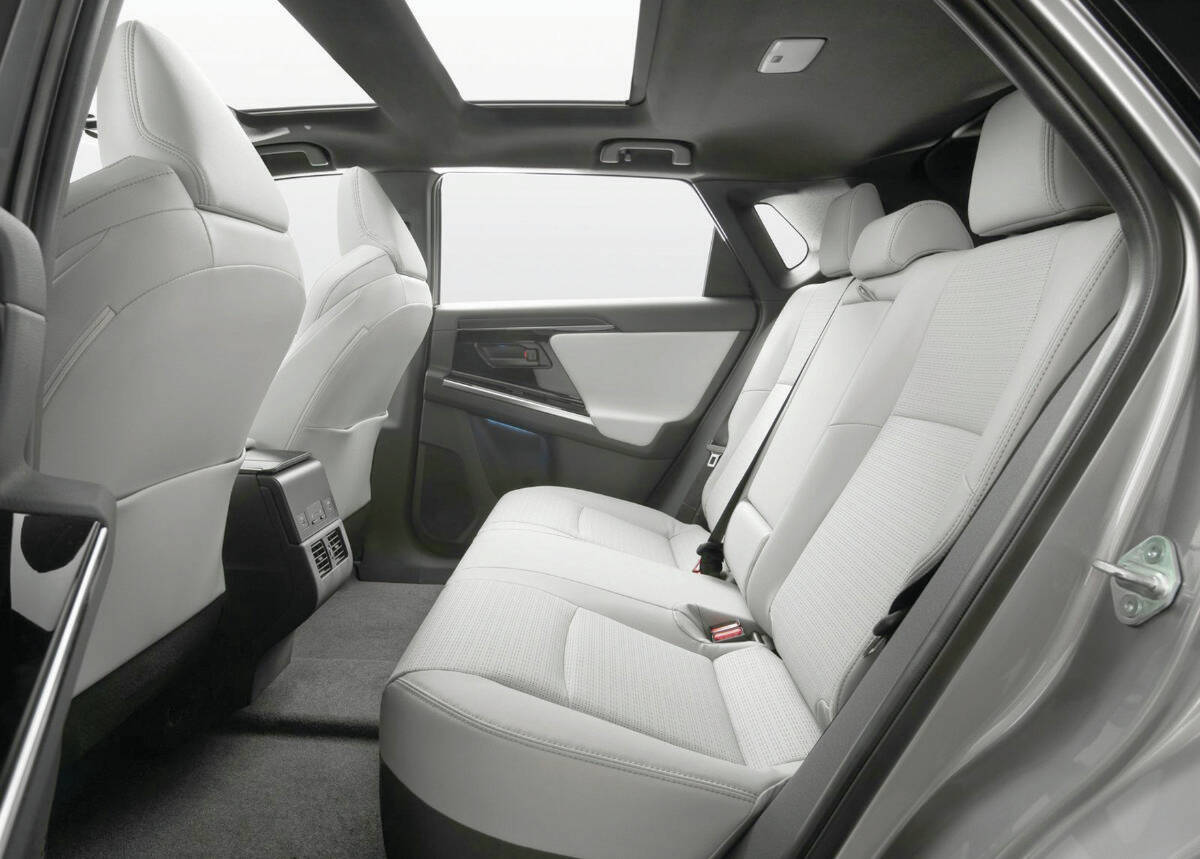 What you should know: 2023 Toyota bZ4X
Type: Front- /all-wheel-drive electric hatchback
Motors (h.p.): Electric (201/214)
Transmission: Single-speed automatic
Market position: The bZ4X is Toyota's initial foray into the world of battery-electric propulsion. It's interesting that rather than doubling power output with two electric motors for all-wheel-drive, as many EVs do, and supporting that with a larger battery pack, Toyota offers one battery and maintains range with smaller electric motors for AWD.
Points: Good looks, but is all that dark trim really necessary? • Interior design is attractive, even with the large touch-screen. • Roomy passenger and stowage areas. • Motor outputs are relatively modest, but the instant torque they produce should prove more than adequate. • Battery range is about average. • Strong lineup of dynamic-safety technologies.
Active safety: Blind-spot warning with cross-traffic backup alert (std.); active cruise control (std.); front and rear emergency braking (std.); inattentive-driver alert (std.); lane-departure warning (std.); pedestrian/cyclist detection (std.)
Base price (incl. destination): $47,000
BY COMPARISON
Volkswagen ID.4
Base price: $46,950
Rear- and all-wheel-drive versions and up to 240 miles of range.
Kia EV6
Base price: $47,000
Sharp-looking EV has a spacious interior. Up to 310 miles of range.
Subaru Solterra
Base price: $48,200
Similar to bZ4X in looks and content, but has standard all-wheel-drive.
– written by Malcom Gunn, Managing Partner at Wheelbase Media
If you're interested in new or used vehicles, be sure to visit TodaysDrive.com to find your dream car today! Like us on Facebook and follow us on Instagram