With each successive model, Hyundai's premium Genesis division continues to challenge entrenched brands from Europe, Asia and North America.
The impending arrival of the Electrified G80, the competition should have every reason to be disquieted.
But first some clarification is in order. The Electrified G80 name implies the full-size sedan is a gasoline-powered vehicle assisted by an electric motor (hybrid). That is not the case. This one is 100 per cent battery-electric and is an offshoot of the G80, which was updated for 2021 and offers choices of a turbocharged four-cylinder or V-6 engines.
Other than a closed-in faux grille (concealing the charging port behind a small opening) and lower air intake, the Electrified G80 is basically identical in shape to the fossil-fuel-burning model. However, some body panels have been switched to aluminum from steel to at least partially offset the weight of the 87.2 kilowatt-hour battery pack beneath the floor.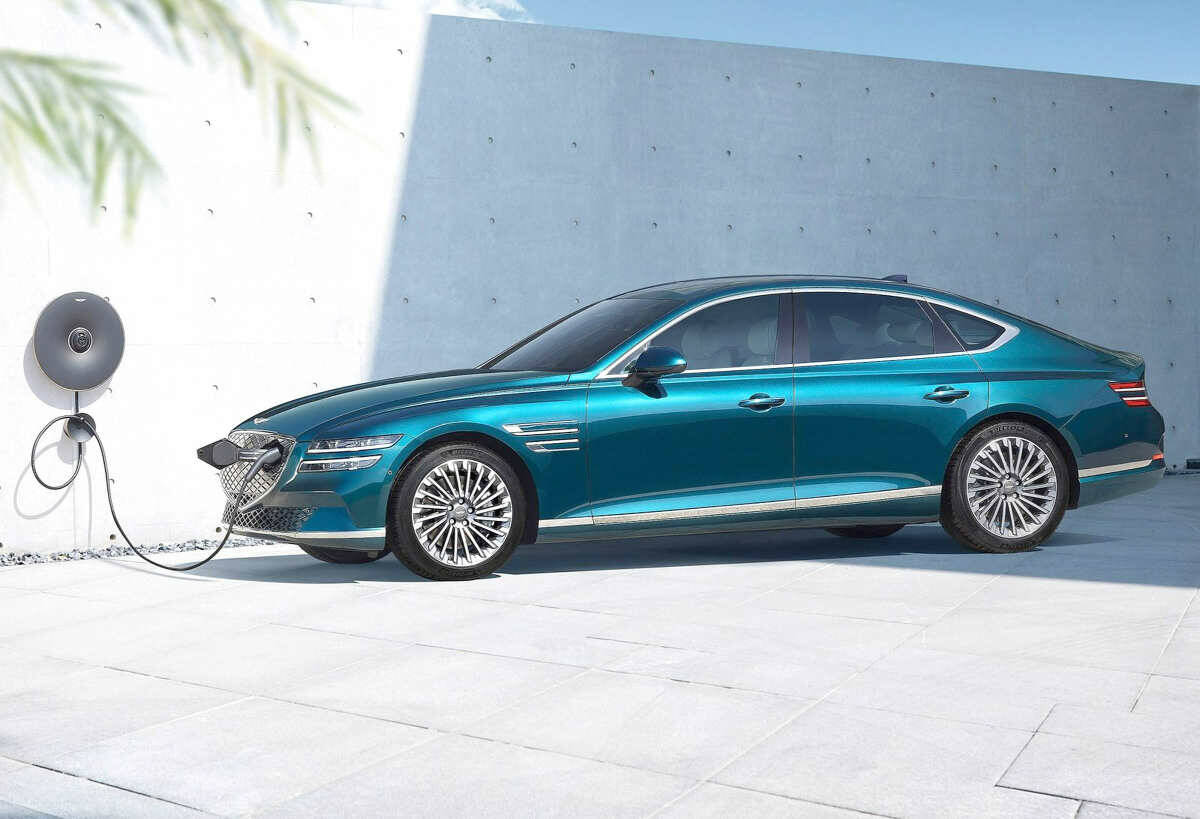 At the same time, the platform was stiffened by a reported 17 per cent to handle an estimated 2,370-kilogram heft and to aid overall ride comfort and handling capabilities.
The Electrified rides on unique 19-inch wheels.
The car's shapely, low-slung design is one of the more attractive to be found and is a total eye-catcher from every angle.
From a practical standpoint, the cabin affords a reasonable amount of space for up to five passengers who are treated to supportive Nappa leather seats along with a wood-and aluminum-trimmed dashboard and door panels.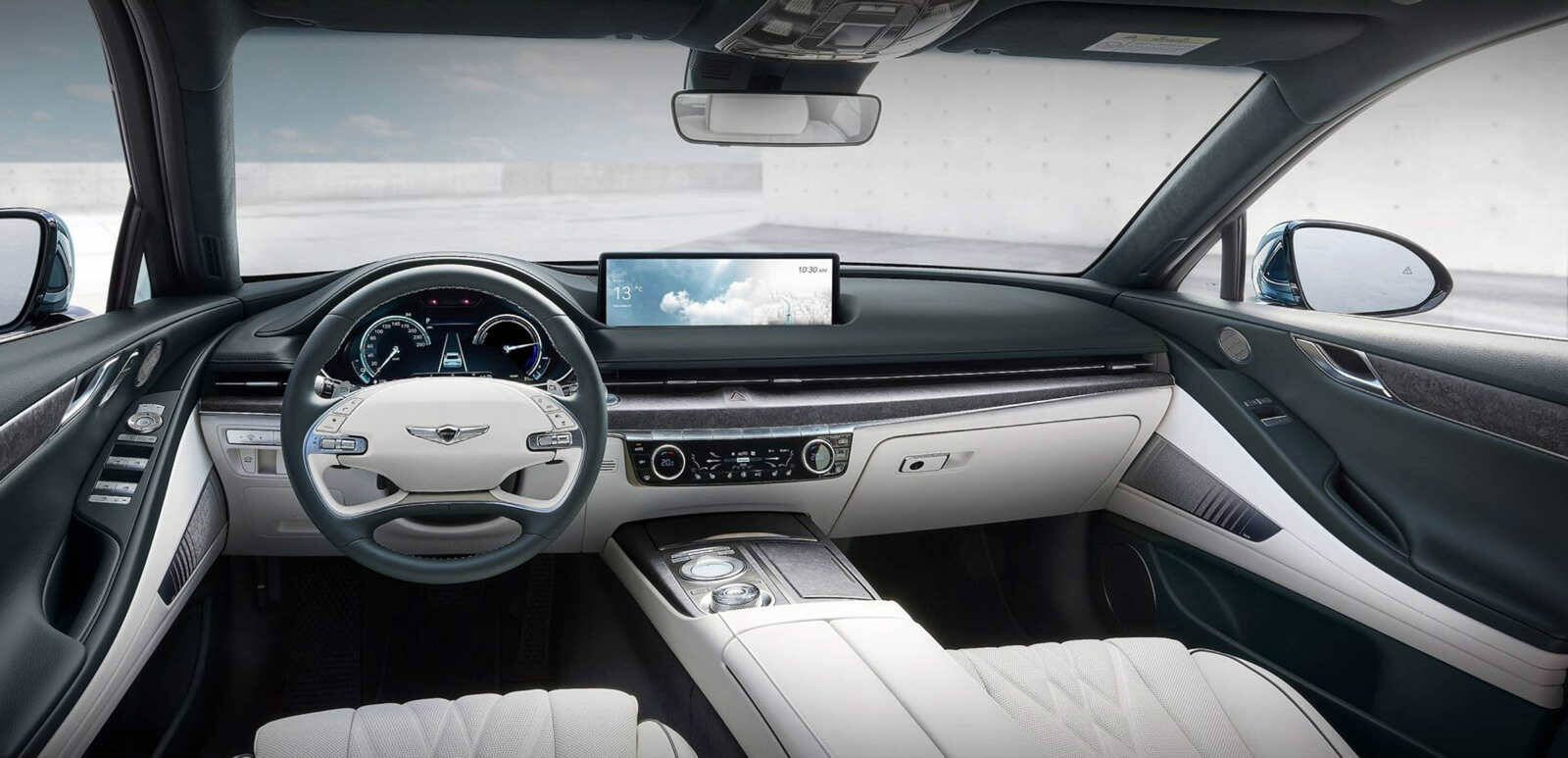 And all aboard should have sufficient legroom, thanks to the Electrified's distance between the front and rear wheels, which is more than 7.5 centimetres greater than that of both the Mercedes-Benz E-Class and Cadillac CT5 sedans. The only possible caveats are somewhat restrictive rear-seat headroom, which could impede taller riders, and a reduction in trunk volume due to the rear motor's intrusion.
The Electrified G80 uses front and rear electric motors that deliver a net 365 horsepower and 516 pound-feet of torque. For comparison, the regular G80's available turbocharged 3.5-litre V-6 pushes out 375 horsepower and 391 pound-feet. According to Genesis, the Sport mode setting can accelerate the Electrified to 60 mph (96 km/h) from rest in 4.9 seconds.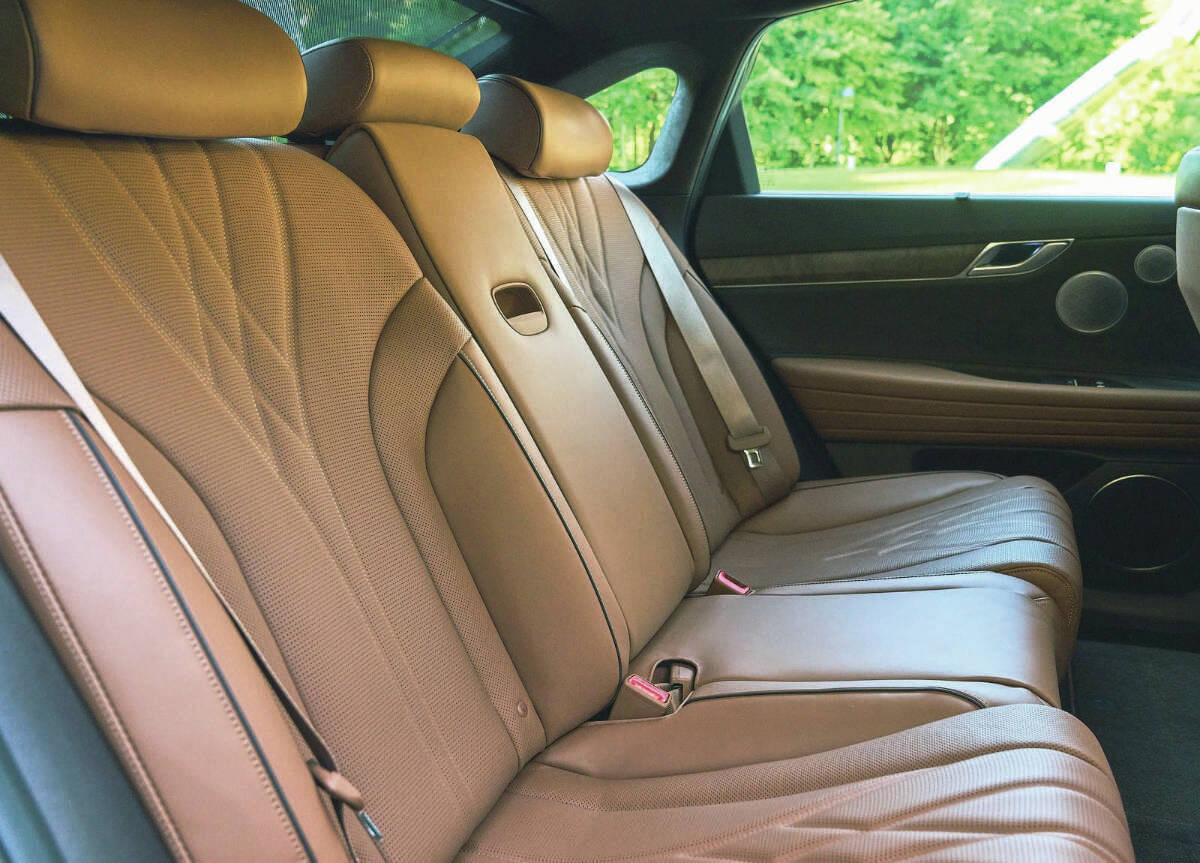 The standard all-wheel-drive system splits the front-to-rear torque evenly and is engaged except when traveling at a steady rate of speed. During those times, 100 per cent of the power is shipped to the rear wheels.
According Genesis, using a 480-volt commercial-grade DC faster charger will bring the battery pack to 80 per cent capacity from 10 per cent in 22 minutes. A full charge using a 240-volt Level 2 home station takes about eight hours.
Genesis expects 450 kilometres of maximum range. Official fuel-consumption equivalency numbers are 2.2 l/100 km in the city, 2.6 on the highway and 2.4 combined.
When accelerating from a stop, the power system is a treat for the senses as the Electrified gets up to speed almost imperceptibly. Press the pedal harder and the passengers will be pinned to their seats.
The big sedan also transitions into tight corners with little drama, and the adaptive dampers (shocks) effectively smooth out the road's rough surfaces. At its highest setting, the paddle-shift controlled regenerative braking system can stop the Genesis without the driver touching the brake pedal.
The interior environment is generally free of noise, which is inherent in electric vehicles, but it's also aided by active noise cancelling.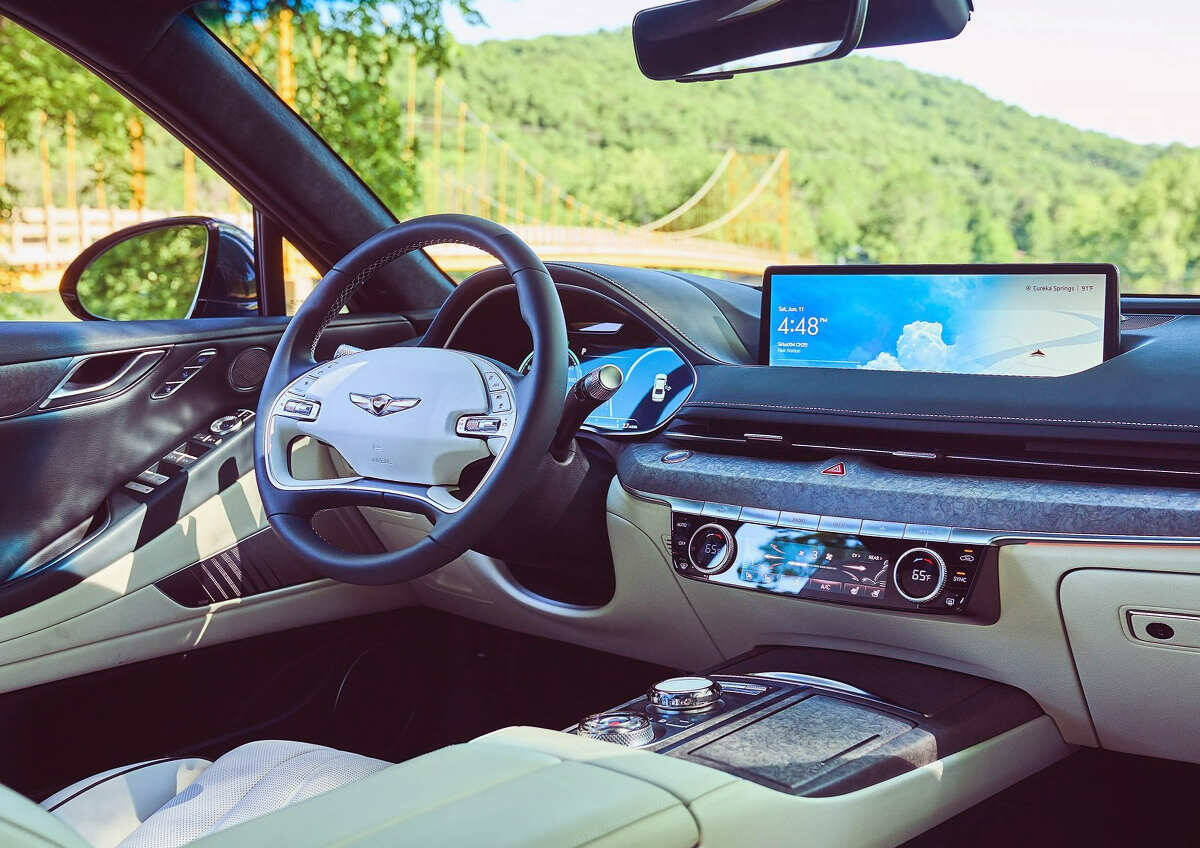 At $105,125, as indicated on the Genesis website (you can build and order one now), the single Prestige AWD trim level comes with a 14.5-inch touch-screen, 12-way power-adjustable front seats, rear-seat air conditioning, 17-speaker Lexicon-brand audio system and ambient interior lighting.
Standard active safety tech includes forward-collision avoidance, driver attention warning and lane-keeping assist.
The Electrified G80 might be Genesis' first electric sedan, but it is so good that it shouldn't be passed over by buyers or ignored by competing brands.
What you should know: 2023 Genesis Electrified G80
Type: All-wheel-drive full-size electric sedan
Motors (h.p.): Dual electric (365, net)
Transmission: Single speed controller
Market position: This electric sedan is one of several EVs that Hyundai's up-market division intends to launch before the end of the decade. The Electrified G80 joins the brand's recently arrived GV60 compact utility vehicle in Genesis' EV stable.
Points: Design earns full marks for looking awesome. • Interior's luxury accoutrements are equal to, or surpass, the competition. • Front and rear electric motors produce plenty of torque. • Superior ride and handling qualities make for an enjoyable driving experience. • Battery range should be adequate for most drivers. • Genesis is now a worthy competitor to more established luxury peers.
Active safety: Blind-spot warning with cross-traffic backup alert (std.); active cruise control (std.); front and rear emergency braking (std.); inattentive-driver alert (std.); lane-departure warning (std.); pedestrian warning (std.)
L/100 km (city/hwy): 2.2/2.6/2.4
Base price (incl. destination): $105,125
BY COMPARISON
Audi e-tron
Base price: $90,000
Hatchback and Sportback versions exude luxury. Max range is 364 kms.
Cadillac Lyriq (2023)
Base price: $70,000
EV hatchback offers single and dual motors with up to 500 kms of range.
Lexus RZ 450e (2023)
Base price: $70,000 (est.)
Dual-motor version of the Toyota bZ4X. Range estimate is 360 kms.
– written by Malcom Gunn, Managing Partner at Wheelbase Media
If you're interested in new or used vehicles, be sure to visit TodaysDrive.com to find your dream car today! Like us on Facebook and follow us on Instagram